Rustic Beds for a Variety of Styles and Needs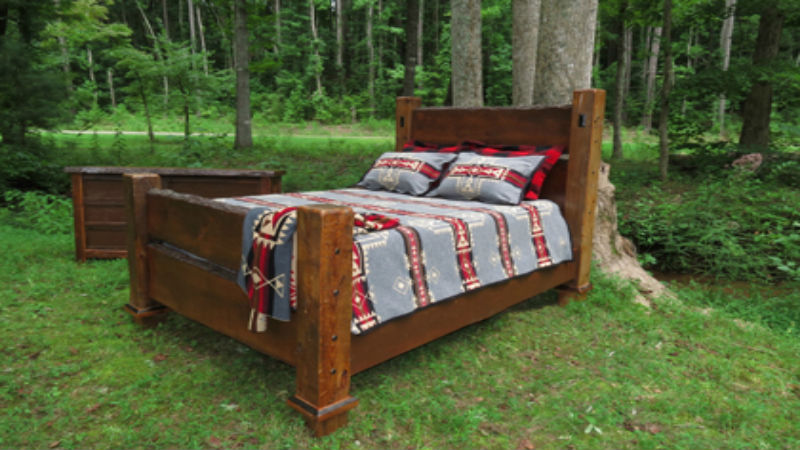 The bedroom has progressed from simply a room in which people to sleep to another opportunity to express one's style and taste. For those looking to create a comfortable and inviting nest in their cabins – or homes decorated like cabins! – a variety of styles of rustic beds are available. Whether you are shopping for your master suite, guestroom, or kids' rooms, you will not find your search lacking when it comes to rustic beds. Georgia is home to a high-quality builders and distributors that offer a multiple styles and sizes of beds to meet your needs.
Wooden Beds
Beds with wood head- and footboards of are often those that come to people's minds when they think of rustic beds. Wooden beds come many forms and can fit in with a variety of styles. Log beds are good choices for those whose homes are decorated in a traditional, cabin-style décor. Beds made of reclaimed wood are well-suited to rooms that are rustic as well as those that are more industrial. Wood beds also are available in more polished options. These appear in the form of heavy paneled beds as well as those that are carved or have wood inlays. Carved and inlayed bed frames work well as focal points in the bedrooms in which they are placed.
Metal Beds
Rustic beds are also available in metals such as wrought iron and hammered iron. Iron beds fit well in farmhouses, but some manufactures are offering metal beds that take the shape of vines and trees in order to appeal to those looking to complete their pastorally decorated bedrooms. Still other beds are available with decorative panels made of metals such as copper, which afford unique and eye-catching designs.
Hybrid Beds
For those who like both metal and wood, some beds feature wooden bedposts with metal throughout the head- and footboards. Beds made of a combination of metal and wood are beautiful in their own right and they are excellent options for people seeking a rustic look but who may not have the space to accommodate a more substantial piece of furniture.
Choosing the Right Bed for Your Space
Choosing the right rustic bed is largely dependent on the room in which you are planning to place it. For a large master bedroom, a more substantial bed can offer a bold statement and create a focal point for the entire room. However, if you are looking to accommodate a smaller room, such as a guest room or office, rustic beds are also available as futons and day beds. Of course, for children's rooms, many options exist in the form of twin beds, bunkbeds and lofts.
Rustic Beds for a Variety of Styles and Needs

,